This was a long week! Mostly because I was sick, and who wants to do anything when you don't feel well?! However, toddlers don't care if you're sick, go figure! So we carried on as normal because it helps to keep him occupied!
Of course there are a ton of Halloween Activities on Pinterest, but not too many that young toddlers can do, so I complied everything that I could find! I hope you enjoy them! 🙂 Grab your free calendar below!
Halloween Books
BOO! by Jonathan Litton
In the Haunted House by Eve Bunting
You're My Little Pumpkin Pie by Natalie Marshall
Little People: Halloween is Here by Parragon Books Ltd.
Haunted House by DK
S.T.E.M.
Vanishing Ghosts – I saw this done with packing peanuts on Pinterest, but I definitely didn't have any of them lying around, so I had to come up with another idea. I remembered the eggs from Dinosaur Week, and decided to make ghosts out of baking soda.
All I did to make the ghosts was mix just enough water with baking soda so that I could pack it together (be sure not to add too much water). I put them on a tray, and then I tossed them in the freezer for about 15 minutes. When I took them out, I added eyes and a mouth with a washable marker (sharpie didn't work). After that, I let Little Man put the ghosts into a bowl of vinegar, and watch the disappear! Some notes: Make the ghosts small, mine were a bit too big, and didn't dissolve the whole way. Also, you will need to use fresh vinegar with each ghost. Little Man absolutely LOVED this! He loves ghost, and he loves when we do any type of science experiments! Perfect! 🙂
Mummy Marshmallows – This idea from Toddler Approved was quick and easy (my kind of activity)! I didn't have any mini marshmallows, so I cut up larger ones. Let's just say it made this activity very sticky, haha! I was surprised to find that Little Man had no interest in eating the marshmallows!
Bat Color Matching – We didn't have time to complete this activity from Simple Fun for Kids, but it looks like a great way to practice colors!
Monster Counting – I saw this game on 123 Homeschool 4 Me, and was going to use the printables to practice counting with Little Man, but we ran out of time! Right now, Little Man can count to five (most times, haha), so I was going to have him count out five eyes for each monster and glue them on.
Magic Jack-O-Lantern – I saw this activity on I Can Teach my Child. Now, she says that sharpie didn't work when she tried to draw on a balloon, but it worked fine for me! I did this activity twice with Little Man, once with a pumpkin, and once with a ghost. We could have easily done it more than twice because it was so fun to watch!
Motor
Spider Webs – I saw this pin, and decided to try it with Little Man, but he definitely just threw the string on the branches and gave up, haha! It could be fun with an older child though!
Halloween Stickers – Nothing easier than stickers! I love stickers! Great for fine motor practice! Little Man is able to peel them off and stick them on by himself. This is the picture he created!
Pumpkin Drop – I didn't get to do this with Little Man, but it was my plan to do a clothespin drop type game, but instead of clothespins, I was going to use some Halloween mini erasers that I found at Target.
Spider Lacing – Learning with Mrs. Langley, has some great games for older kids, but I was going to use her idea for lacing spiders on straws (last picture on her page). I thought Little Man would like lacing the spiders, but he wanted nothing to do with it! Oh well!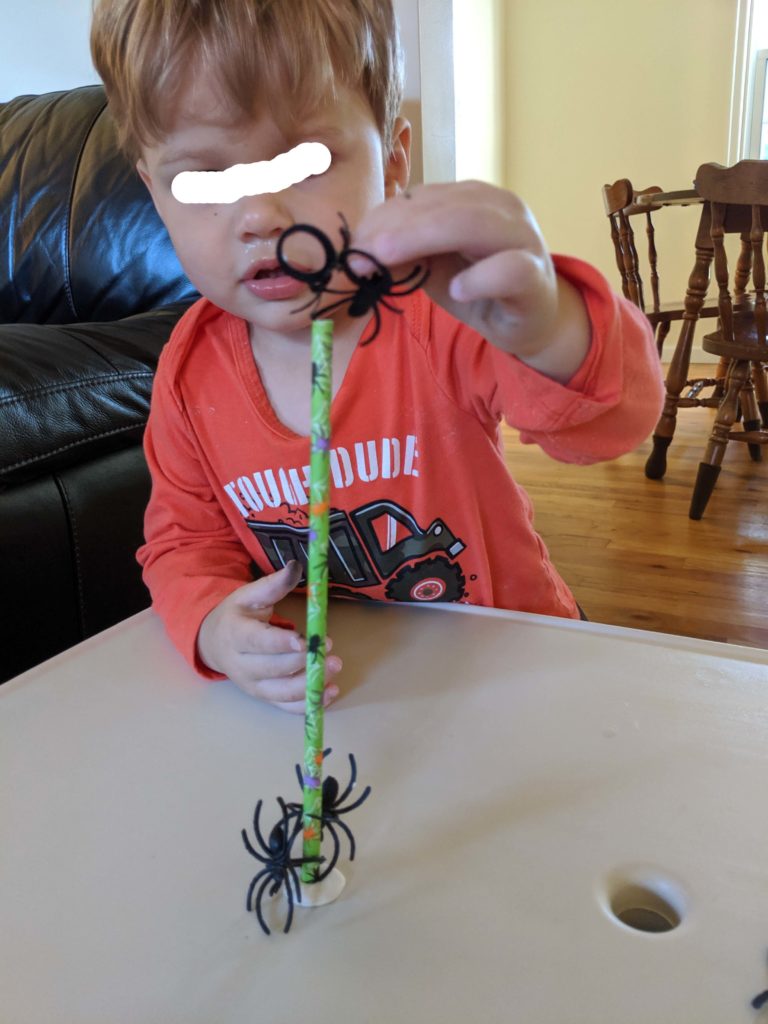 Ghost Balloon Game – After using the balloon from the Magic Jack-O-Lantern, blow it up and tie it off. Then toss the balloon in the air and see how long you and your child can keep it from hitting the ground! We didn't have time for this, but I know Little Man would love it, so I will have to try it another time!
Music & Rhymes
Five Little Pumpkins
Halloween is Coming
Dem Bones
Itsy, Bitsy Spider
Other
Monster Play-Doh – I saw these cute little kits on A Dab of Glue will Do, and knew I wanted to try it with Little Man. He likes when we add different items to our play-doh!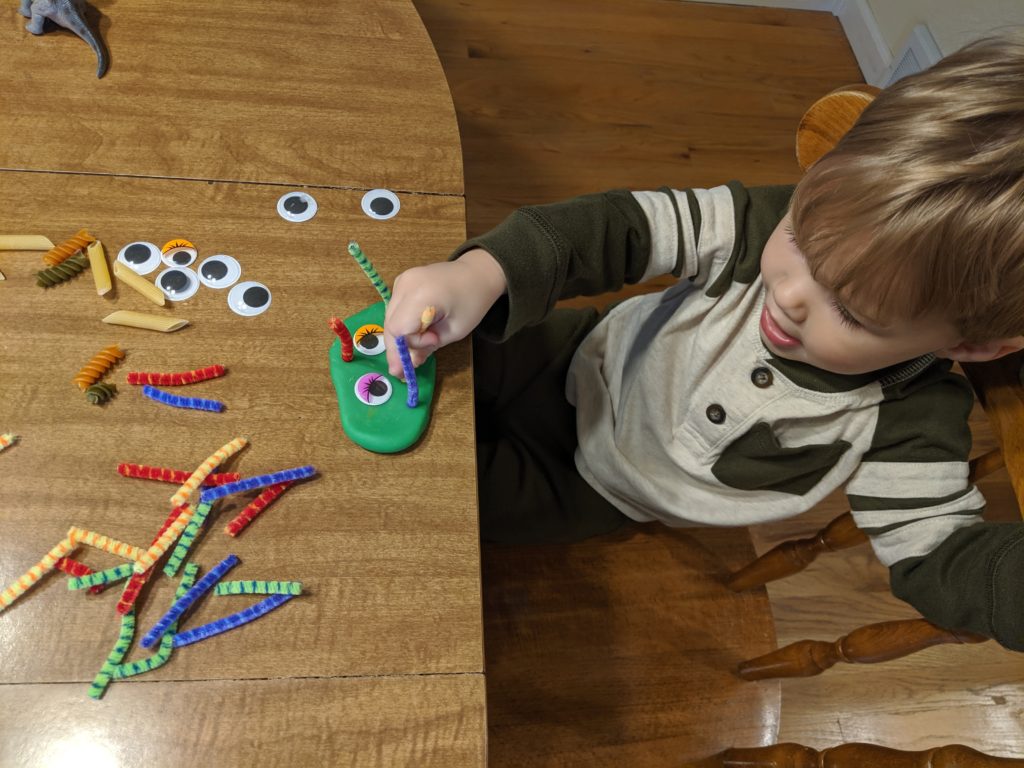 Mummy Painting/Taping – We didn't have time for either of these activities, but check out the mummy painting on Mrs. Plemon's Kindergarten, and the mummy taping on No Time for Flashcards.
Skeletons – I did this activity many years ago with my preschoolers, and they loved it! Little Man on the other hand, not so much! He didn't care at all! And after all the time I took to draw that awesome skeleton, haha, just kidding! With my preschoolers, I just provided the head, but I thought Little Man would need more direction, so I drew everything.
Spider Races – Still Playing School had this fun idea! Little Man tried, he really did, but it was just too hard. However, he was pretty excited when he made it move a centimeter, so I guess it was a win! 🙂
Bats – Darcy and Brian had this cute little bat craft, but Little Man definitely did not want to color that much! So I made a bat out of what he did color! I think it still turned out pretty cute! Don't you?!
That's all for this week! I hope you enjoy all of these Halloween activities! Don't eat too much candy, haha! Happy Halloween!
*Note: As an Amazon Associate I earn from qualifying purchases.*