Let me start by saying that these Holidays Around the World Activities were probably my favorite by far! Little Man had a blast, and we both learned a lot of new things about different customs! I will say that what you read below, I found online, so if you find something to be incorrect, please let me know! 🙂
Books
I will say that I had a really hard time finding books for any of the holidays, which is really sad.
How Do Dinosaurs Say Happy Chanukah? by Jane Yolen
My First Kwanzaa by Karen Katz
Diwali Lights by Rina Singh
Elmo's Little Dreidel by Naomi Kleinberg
Li'l Rabbit's Kwanzaa by Donna L. Washington
Cognitive Activities
Before completing any of these activities with your little one, I highly recommend looking up something about each of the holidays, so that you can talk to your child about them!
Bodhi Day
This Buddhist holiday will be celebrated on January 2. When researching this holiday, I found that the triple gems/jewels were very important – the Buddha, the Dharma, and the Sangha. During this video, it shows that the three jewels are yellow, blue, and red. I'm am not sure if this is always true, but I decided to use these colors for our activity. I had colored stones, or "gems" for little man to separate based on color. If you don't have any stones, feel free to just cut them out of paper!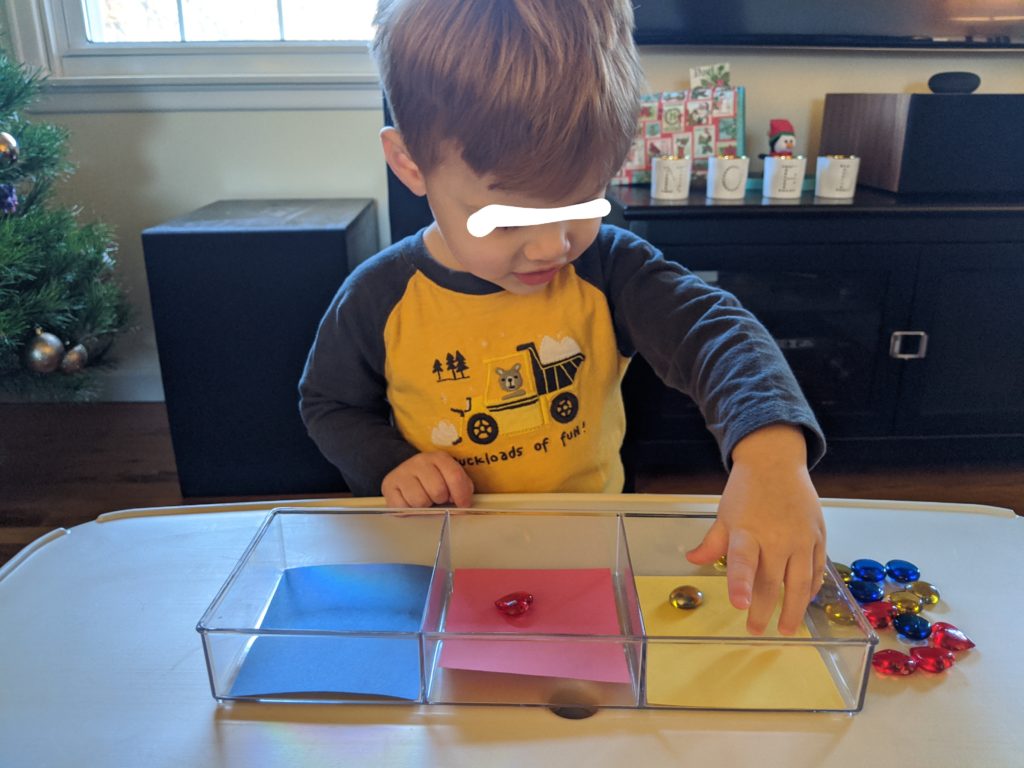 Hanukkah
Hanukkah is celebrated by the Jewish faith for eight days in December. In the book, "How Do Dinosaurs say Happy Chanukah" (Little Man LOVES this book), it mentions a gelt. Which, when I looked it up, I found that it means, money. So I got out some plastic gold coins from St. Patrick's Day (any money or object could be used). Then I put them into a small bag, and we practiced counting the coins as Little Man put them into the bag, and then pulled them out of the bag.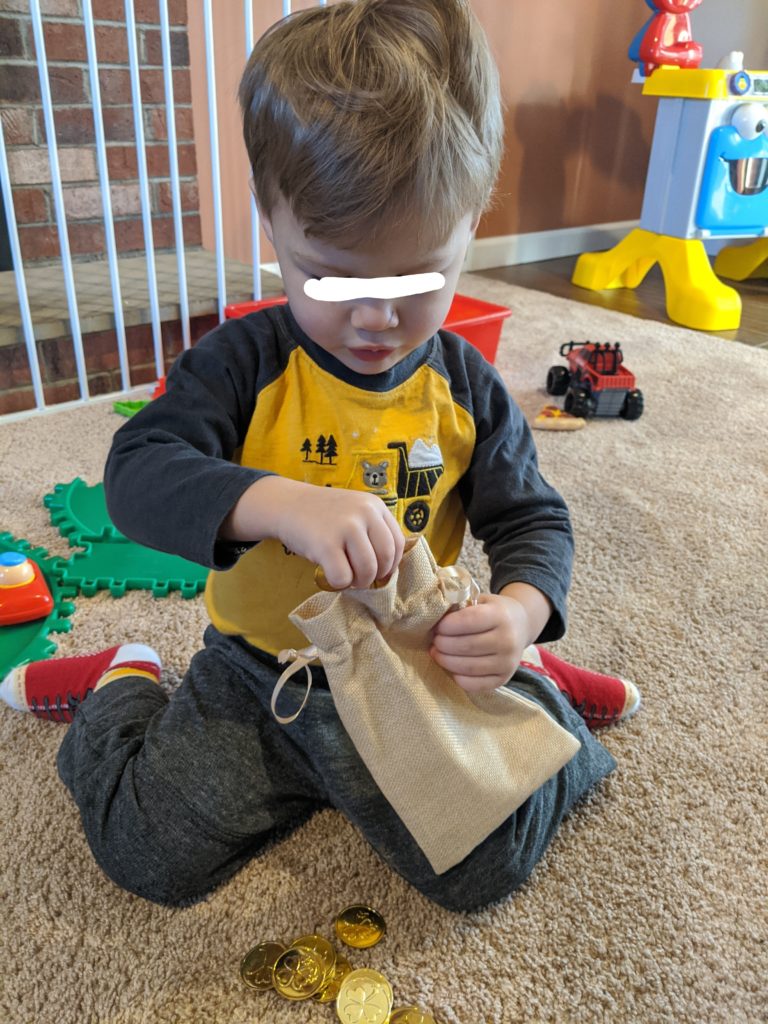 Diwali
This holiday, also known as the Festival of Lights, is celebrated during early fall. It is the largest festival in the Hindu calendar, and lasts for five days. The word Diwali means, row of lights. A popular tradition during this festival is, Rangoli – making patterns using colorful powders and flowers.
After I learned all of this information, I decided to make Little Man a sensory bin. I colored some rice, which I have never done before, but it turned out amazing! All you need is one cup of rice, one teaspoon of vinegar, and food coloring! I combined all the ingredients in a ziplock bag and let Little Man shake it! He probably liked this part more than the sensory bin, haha! After the rice is colored, spread it on a pan and let it dry out for at least two hours. I would have done so many more colors if I would have known it would turn out so well! When our rice was dry, I put it in a bin and added candles to it. My Little Man is OBSESSED with candles!
Kwanzaa
Kwanzaa is a Pan-African holiday that is celebrated from December 26 through January 1. During this time, a Kinara holds seven candles, three red, three green, and one black. These candles represent the principles of Kwanzaa.
For my activity, I chose to create a worksheet of sorts for Little Man. The picture I used came from kissCC0, and then I added the numbers in a Word document. It is free for you here:
To complete this worksheet with Little Man, I cut out three strips of red paper, three green, and one black. Then I laid them out and had Little Man glue them onto the correct candles. After that, I cut out the numbers at the bottom of the page, and had Little Man match them with the other numbers on the paper. He needed some prompting with this part, but overall did really well! We counted the candles after he finished. If you have an older child, let them trace the numbers for extra practice! 🙂
St. Lucia Day
This holiday is celebrated on December 13 throughout Scandinavian countries. It is a festival of lights that is done in honor of a woman who is said to be one of the first Christian martyrs. A tradition during this time is for sons to wear star hats. They are called Star boys.
Once learning this, I decided I was going to make a star hat with Little Man, putting extra focus on the star shape! However, we never got to this activity. To make yours, let your little one decorate a piece of paper in any way they choose. Then roll it into a cone shape and tape it together. Now glue three star cut outs in a vertical line onto it. Count the stars as you glue them on! Then let your little one put the hat on! 🙂
Motor
Three Kings Day
This holiday is celebrated mostly in Spain and Latin America, but there are Christians that celebrate all over the world. It is also known as the Epiphany, and it is acknowledge 12 days after Christmas. On this day, people remember the three wise men that came to visit Jesus after his birth. A popular tradition is to eat king cake, which is a bread that has a small object hidden inside (usually a baby figurine).
Therefore, I chose to use this tradition as a motor activity. I had an actual plastic cake that opens, so we hid an object inside that, however, a small box would work as well! Not only did I hide something inside the cake, but I hid the cake itself. Little Man had a blast searching for it! I probably hid it 15 different times!
Ōmisoka
Ōmisoka is how the Japanese culture celebrates New Year's Eve. On this day, the bells toll 108 times which represent the cleansing of 108 worldly passions. In order to prepare for this, people often do a large cleaning – Osoji means "big cleaning" and Susuharai means "sweeping out the soot." Therefore, I decided to let Little Man clean, haha! You would be surprised how much young children actually like to clean. Personally, Little Man loves our little vacuum! But dust rags, swiffers, a little broom or dust pan, all work well! 🙂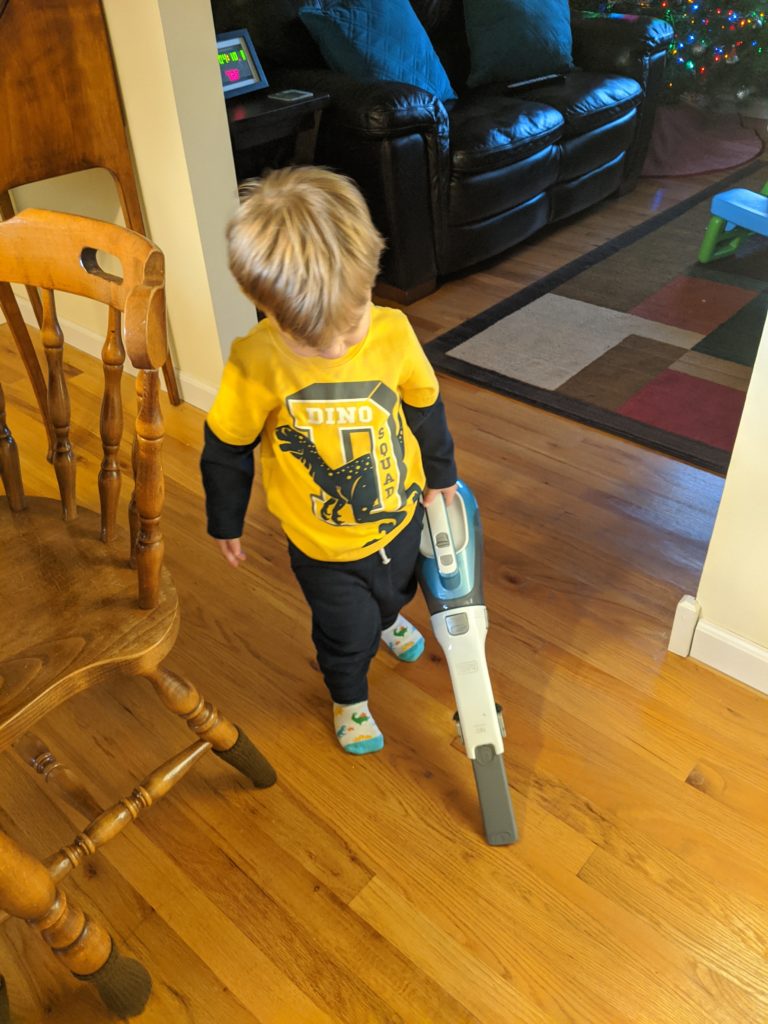 St. Nicholas Day
Observed on December 6, St. Nicholas Day celebrates a man who was known for his good deeds, especially towards children. In Dutch, St. Nicholas was called Sinter Klass. This eventually led way to Santa Claus, and the idea of gift giving. I found a dot page for St. Nicholas on Making Learning Fun. Little Man liked using his bingo daubers!
Yule
A celebration of Winter Solstice, Yule is often referred to as a pagan holiday. However, a few traditions actually come from the yule celebration, including the Christmas tree and yule log.
The activity that I was going to complete with Little Man was to create a yule log, but we never got to it. It was my hope to go on a nature walk to find a log, pine cones, evergreen sprigs, and other items. Then we were going to glue these items onto the log, along with gold ribbon, bows, flowers or mistletoe. If it's too cold or if you don't have these items available, you can always print them out! Let your little one pick and choose whatever they want to put on!
Las Posadas
Las Posadas is celebrated in Latin America, Mexico, Guatemala, Cuba, and in some parts of the United States. The celebration begins on December 16, and lasts for nine nights. During this time, the journey of Mary and Joseph is reenacted, and ends with everyone attending midnight mass on the ninth night. After mass, families go home and celebrate with a large, traditional meal. A pinata is often used in celebration!
We didn't actually get to make the pinata or break it open, but if you had some time, I'm sure it would be a really fun activity to try with your little one! You can read how to make a paper mache pinata below! 🙂
Music & Rhymes
I Have a Little Driedel
This Little Light of Mine
Other
Star of David Ornament – I actually made one of these when I was small, so it will be nice to hang Little Man's next to mine on the Christmas tree! All you need to do is to glue (I hot glued) together two triangles out of popsicle sticks. Then flip one upside down and glue it on top of the other one. Once it dries, let your little one decorate it however they want! I was brave and let Little Man use glitter. It actually went much better than I thought (thank goodness)! Let the star dry once more, then glue or tape a picture behind it, and add a string!
Paper Mache Pinata – You will need newspaper, glue, and a balloon. Blow up the balloon, and tie it shut. Cut your newspaper into strips and dip them in the glue one at a time. Place the strips onto the balloon. Continue to add strips until the balloon is covered, but be sure to leave a hole at the top. Let the paper dry and harden. Once it is completely dry, let your little one decorate it (markers, paint, glitter), then pop the balloon.
Now it's time to place some candy or other trinkets in the hole. After that, make two small holes near the large hole, and lace a string through them (this is how the pinata will hang). Finally, depending on how large your original hole was, you may need to cover it with more newspaper dipped in glue. It's now time for the fun part! Let your little one hit the pinata until the candy/toys fall out! 🙂
Well, I hope you learned a lot, and enjoyed these Holidays Around the World Activities as much as we did! Next week we will focus on Christmas! Happy Holidays everyone!
Note:
*As an Amazon Associate I earn from qualifying purchases.*