I know it has been forever since I've actually written a post! Life has changed quite a bit, and I just haven't had any time! This is just a hobby for me, but one I really like, so hopefully, I can get back to it a little bit at a time! Speaking of having no time, hubby and I haven't been on an actual date in over a year! Now of course, COVID messed up our date nights quite a bit, but since having our first child, three and a half years ago, I can count on one hand the number of dates we have actually gone on! Hence, when Christmas rolled around last year, I knew I needed to change some things! Enter my stay-at-home date nights! One date per month, no kids, and good food! 🙂
At the end of this post, you will be able to grab your free copy of my date-night book that you can print and give to your significant other! No occasion required! But it is great for Christmas, Valentine's Day, Birthdays, and Anniversaries!
The book starts in January and follows the calendar year, providing one date idea per month. I really love food, so I made sure to included it every month! Now, since I only gave this book to hubby this past Christmas, I won't have pictures for every date, but will update as we complete them!
January
I thought January would be the perfect time to reminisce! So pull out whatever you have – photo albums, videos, saved gifts – whatever will take you and your significant other on a trip down memory lane! And of course add in some yummy take-out! I loved looking at all of our memories together! And I think I loved the food even more, haha! We never order late-night food! Probably because I am in bed by ten! But seriously, this was a really nice way to start the new year together! Also, I forgot to take a picture of our awesome food and huge pile of photo albums! I'm totally bummed! I guess we'll just have to do it again sometime!
February
February's date is to have a picnic in front of the fire. I do realize everyone may not have a fireplace, or may live somewhere really warm, but the point is to find a cozy spot and snuggle together. We chose to complete this date on Valentine's Day! Also, it's worth mentioning that hubby and I are completing all of our dates after the kids are in bed, as this is our only alone time! For this reason, we chose not to have a picnic dinner, and instead ate a picnic dessert!
I chose to make a quick and easy smores dip in the oven! The recipe is super simple! Preheat oven to 450 F, and put a layer of chocolate chips in the bottom of an oven safe dish. Then top with a layer of mini marshmallows. Bake for 8 minutes, and serve warm! I served ours with graham crackers, teddy grahams, cookies, and pretzels!
After enjoying a picnic of your choosing, heat things up with some strip Jenga! Obviously, it doesn't have to be Jenga, but poker was definitely out for me, and I kept seeing Jenga pop up on Pinterest!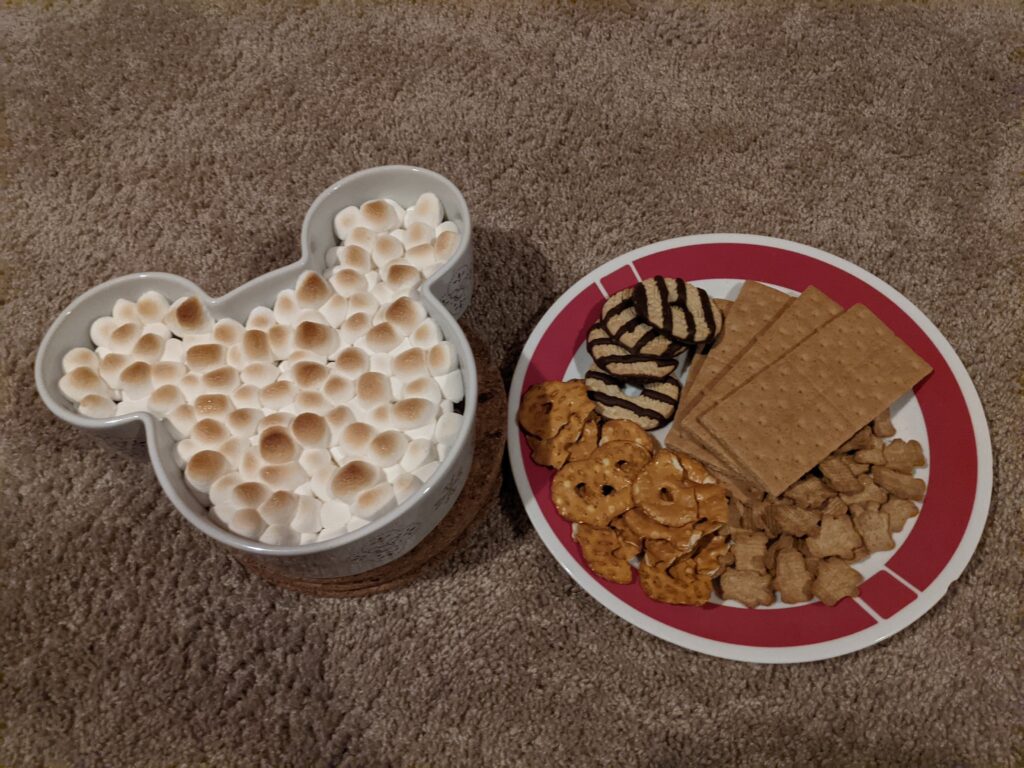 March
So for this date, I let hubby look through all of my Pinterest dessert recipes and pick one that he wanted to try! He chose a pistachio cake. I got all the ingredients the next day, and after the kids were in bed, hubby and I made the cake together! It was nice, and fun to have hubby in the kitchen with me!
I'm not going to lie, this took way longer than I expected, and I ended up falling asleep on the couch while waiting for the cake to cool so we could put the icing on it! Hubby actually finished the cake himself, and woke me up when it was time to eat it (the best part)! I can honestly say that I have never eaten a cake at 11:30 at night, but it was so warm and good! Definitely worth sort-of staying up for, haha! It doesn't look all that great in the picture since the cake really needed more time to cool (the icing was sliding off), but who cares when it tastes good! 🙂
April
This was my favorite date so far! I bought our Murder Mystery Game on Etsy! Let me tell you, it is not easy to find a murder mystery game for just two people, so if anyone knows of any others, please comment below! I definitely want to do this again! It took about an hour for us to complete, and all the materials were printed right from our computer!
Due to time constraints, I didn't have a lot of time to make the appetizers I wanted to make, so I settled for a hot dip and a cold dip served with various chips and pretzels! Just a fun side note, I have never used the "little dipper" that came with my crockpot, but that thing is awesome! Unfortunately, it's not sold separately, but you can buy 1.5 qt slow cookers, like this one, that I think would work similarly!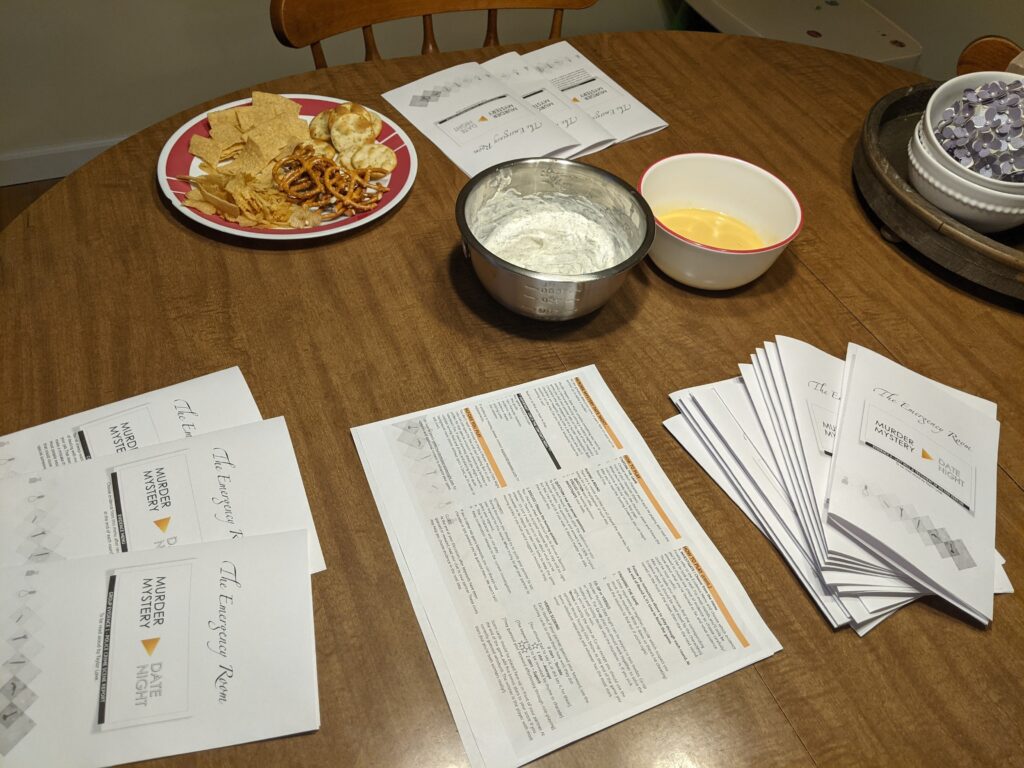 May
So, the reason I chose nachos as the appetizer for May is because I was thinking about Cinco de Mayo. When hubby and I were first married we "celebrated" Cinco de "Nacho" (I read about it in a magazine, haha), on the fifth of every month, so it only seemed appropriate that our food for this date be nachos! We don't have many board games for two (drop any ideas below), but we did play a full game of Scattergories! I lost by two points! 🙁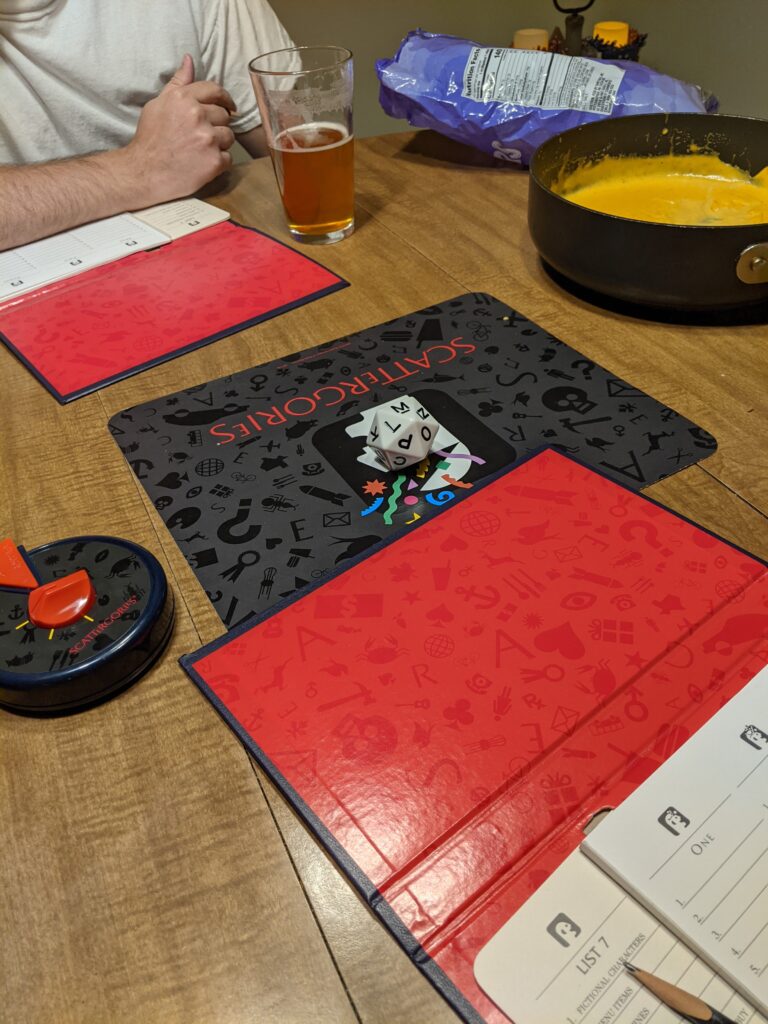 June
A Lego challenge! I used to love playing with Legos when I was a child, and so did hubby! Thankfully, hubby's mom held onto most of his old Legos. I can't wait to see who wins!
July
Hubby and I love to sit on our patio and enjoy a glass of wine, and we often play 500 rummy, so I look forward to doing this more than once this summer!
August
I am so excited for this! I plan to buy some cheap water guns from the dollar store and hide them all around the outside of our house! That way when we run out of water in one gun, there is no need to refill! And who doesn't love ice cream sundaes?! Our favorite toppings include – crushed nuts, crushed pretzels, sprinkles, chocolate syrup, crushed Oreos, whipped cream, and cherries! What are your favorites? I would love to add to our list!
September
I bought an origami book (link shown below), and hopefully, we will be able to make at least some of them! I have tried before and failed, so we shall see! 🙂
October
Cuddle up for some scary movies! Pop some popcorn, grab some candy, and turn the lights down low! Also, if all those scary images keep you awake later, I'm sure you can think of some way to pass the time! 😉
November
I found a several different tutorials on YouTube for couples painting, by typing it into the search bar. Just pick one that you and your significant other like, and follow along! Just be sure to preview the video a couple days before, so you can be sure you have all the necessary materials!
December
Wrap up the year with some competition! Choose your favorite video game (ours is Mario Kart), and see who comes out on top! I know our video game nights have gotten pretty intense in the past (I mean has anyone ever played Mario Kart and not had a string of expletives come out of their mouth at some point, haha), so I'm sure we'll be put on the naughty list for sure! As if we weren't already on there! 🙂
And now what you really came for, the download! The four pages get folded and fit together like a book!
Hopefully, you enjoy these stay-at-home date nights as much as we did! I would love to hear stories of how they went, so be sure to comment below! 🙂
*Note: As an Amazon Associate I earn from qualifying purchases. *