This is such a fun time of year! I loved doing all of these Christmas Activities with Little Man!
Christmas Books
These are a few of our favorites, but there are so many more!
Dear Santa by Rod Campbell
The Grinch's Great Big Flap Book by Dr. Seuss
Elmo's Countdown to Christmas by Naomi Kleinberg
Pop-Up Peek-A-Boo Christmas by DK
Bear Stays Up for Christmas by Karma Wilson
Cognitive Activities
Grow the Grinch's Heart – I saw this idea on Creative Family Fun, and it reminded me of our Magic Jack-O-Lantern that we did during our Halloween Week. Little Man loves this experiment, and could do it again and again!
Magic Milk – Fun Learning for Kids had this neat experiment! It would have worked, but Little Man didn't really want to swirl the milk, he just wanted to drop all the q-tips into it, haha!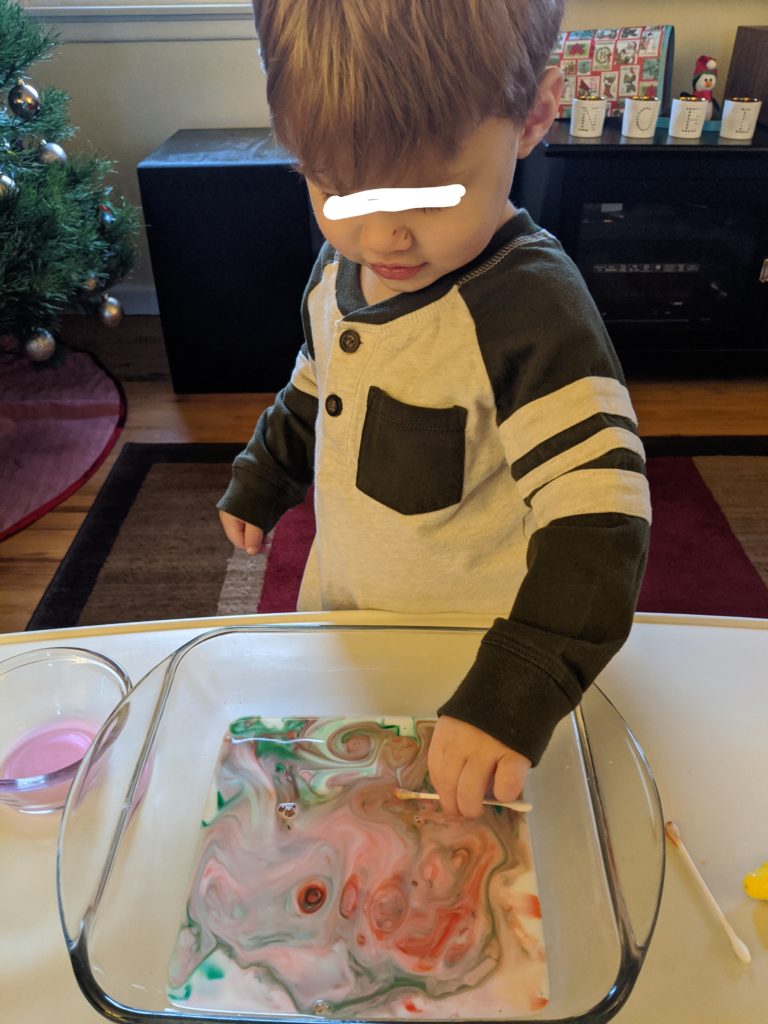 Christmas Shapes – This shape tree came from 123 Homeschool 4 Me. Little Man is getting so much better with shapes! This was a nice, easy activity, and it used glue, so Little Man was all about it!
Big & Small Presents – These presents came from The Autism Helper. Not only are they great for practicing big and small, but they can also be used as a matching activity. Little Man had no interest in the matching part!
Crystal Christmas Tree – I have seen different activities about growing crystals on pipe cleaners using Borax, so I thought it would be fun to do this using a Christmas tree shape. However, I must not have used enough Borax because it didn't work! Oh well, Little Man didn't care any way, haha! You can find all kinds different recipes on Pinterest, just search for Borax Crystals. Maybe you'll have better luck than me!
Motor
Christmas Lights – So, Little Man was not quite strong enough for this activity, but it was my plan to hang a string, and have him use little clothespins to hang up ornament cut-outs (I hung up all the ones in the picture). When Little Man couldn't use the little clothespins, we tried bigger ones. He was able to pinch the bigger ones, but had lost all interest at this point, so we gave up!
Santa Boots Gross Motor Path – I tried to do this activity from Pink Oatmeal, but the information I needed for it was never sent to my inbox. Hopefully, you'll have more luck!
Bell Lacing – CBC Parents had this activity, but we didn't get to try it. I have bells somewhere, but I couldn't find them!
Stacking Snowmen – The Crafty OT used tongs for this activity, but we just used our hands. I swore I had snowflake erasers, but couldn't find them! We used Fall ones instead, oh well! 🙂
Hole Punch Christmas Tree – Little Man needed some help with this activity from The OT Toolbox. He wasn't quite strong enough to squeeze the hole punch.
Music
Your Favorite Christmas Songs! We have way too many to name! 🙂
Other
Salt Dough Ornaments – There are so many salt dough recipes out there, so find one you like, and get creative!
"Ugly" Christmas Sweater – Don't mind my sweater drawing! I'm not an artist! If you're not an artist either, I suggest printing one out! Then let your little one cover it in stickers!
Magnetic Christmas Tree – I thought this activity from I Heart Arts n Crafts, was so adorable, but I just didn't have time to make it! I do have a felt one that I made last year, so maybe I will pull that one out! 🙂
I hope your little one enjoyed these Christmas Activities as much as mine did! We will be taking a break for the holidays! Enjoy this special time with your family! See you in the New Year!
*Note: As an Amazon Associate I earn from qualifying purchases.*