This week we were "down on the farm", for our Farm Animal activities and lessons! Click on the calendar below! Have fun and enjoy! 🙂
Farm Animal Books
The books for this week are listed below, but our basket was overflowing with many others as well! Who knew we had so many farm related books!? I didn't! That's what happens when you have too many!
Pop-Up Peekaboo! Farm by DK
Fisher-Price Little People: On the Farm by Matt Mitter
Little Blue Truck by Alice Schertle
Big Red Barn by Margaret Wise Brown
Biscuit's Day at the Farm by Alyssa Satin Capucilli
S.T.E.M.
Hopping Corn Science Experiment – This idea came from One Time Through. Little Man liked mixing the ingredients together, but really didn't care too much about the hopping part, haha, figures! Also, this bubbled a lot! Definitely went everywhere the first time! So fair warning!
Farm Animal Match – This was a very easy activity that can be done any number of ways. I chose to have Little Man match his toy farm animals to pictures. You could have your child do the same, or you could have them match picture to picture (real or illustrated).
Making Butter – This was fun! I will say, use a small jar, because you will do most of the shaking! Just pour in a little bit of heavy whipping cream (2/3 full), and start shaking! It took about eight minutes for it to turn to butter. There will be some liquid left (this is buttermilk), just pour it out. I've seen others add a bit of salt, but I didn't think it needed any! Little Man and I enjoyed it on crackers as an afternoon snack! 🙂
Farm Animal Puzzles – Little Man loves this puzzle! You can pick up your own here, or have your little one try these simple puzzles from The STEM Laboratory!
Farm Animal Shadow Matching – This freebie came from Tot Schooling! I laminated mine, so we can use it again and again! This activity accidently got completed on Monday; I got my animal matching activities mixed up! But it worked out because I was then able to use the pictures twice!
Motor
Chicken Coop – I saw this idea a few different places on Pinterest, and it was done a few different ways. I chose to print out a picture of a chicken, and then place a few of them around my house. I did think about lining them all up (as if they were in a chicken coop), but I knew Little Man would like this better! In front of each chicken, I placed four eggs. Then it was time for Little Man to collect the eggs. He had so much fun putting all of his eggs into the egg carton.
Milk the cow – Little Man loves to play with water, so I knew he would like this! All you need is a plastic glove. I attempted to draw spots to look like a cow on mine, but they didn't look too good, haha! Fill the glove with water, and use a pin to poke small holes in each of the fingers. Then have your little one squeeze the glove as if they were milking a cow.
Shear the sheep – I saw this done with shaving cream, ribbons, and cotton on Pinterest. The most fun looked like the shaving cream method, but I really didn't feel like cleaning up that mess, haha, so I chose a different way. What I did was grab a piece of Press'n Seal and drew a sheep on it. Then I added cotton balls to the body, and taped it onto my door. Little Man loved pulling off all the cotton balls! It actually looked like a sheared sheep when he was finished!
Gross Motor Farm Movements – If you type this into Pinterest you can find all different types of movement cards! I didn't print any out because I knew Little Man wouldn't care at this age. Therefore, I just chose to say each movement as I demonstrated them for Little Man. He is great at copying! My favorite is below! I know it's a little blurry, but he was such a cute chicken, I just had to share!
Feed the Animals – This idea came from Mama of Littles. I'll admit, I did not have time to do this one with Little Man, and that's okay! These activities are just ideas, pick and choose whatever ones you want! You definitely don't have to do them all! Just have fun!
Music & Rhymes
Old MacDonald
Five Little Ducks
Baa Baa Black Sheep
Mary Had a Little Lamb
Farmer in the Dell
Other
Mixed Up Scarecrow Art – This fun art project came from Fun a Day! I happened to have the gingerbread men outlines, so I used these as the scarecrows. I also had farm animal stickers, so Little Man was able to create a nice picture!
Cheerio Corn Cob – The idea for this craft came from Glued to my Crafts! Little Man only wanted to eat the cheerios! He managed to put a few on, but then wanted to eat them too, so we stopped! Haha!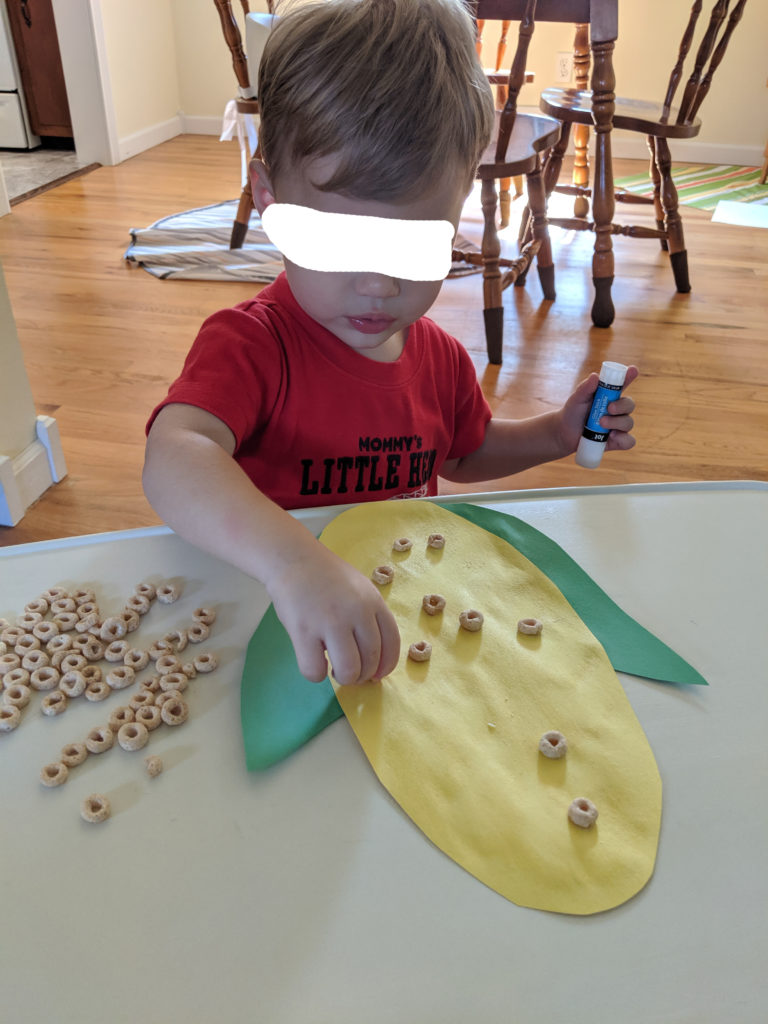 Bonus: If you have a Fisher Price farm set, be sure to get it out! 🙂 If you don't, you can always pick one up here!
That wraps up our Farm Animal activities! I hope you had as much fun as we did! Be sure to look out for my post next week that will have a new theme!
*Note: As an Amazon Associate I earn from qualifying purchases. *