I'm sure this was Little Man's favorite week! He absolutely loves dinosaurs! National Fossil Day is on October 16, so make the day extra fun with all of the dinosaur activities below! Also, don't forget to grab your calendar! 🙂
What better way to start the week than with a trip to the History Museum! Our museum had a free day this past Sunday, and Little Man loved looking at all the dinosaur bones!
Dinosaur Books
Never Touch a Dinosaur by Make Believe Ideas Ltd.
How Do Dinosaurs Say Goodnight? by Jane Yolen
Pop Up Peekaboo! Baby Dinosaur by DK
Hunting the Daddyosaurus by Teresa Bateman – Probably Little Man's favorite Dinosaur book! I know it's older. We borrow ours from the library!
Dinosaur Dance! by Sandra Boynton
S.T.E.M.
Dinosaur Dig (Part 1) – Fun Learning for Kids had this great idea! It's in two parts because you first have to make the oobleck, and then you have to let it harden. Little Man loves when we mix things!
Fizzy Dino Eggs – This activity was a lot of fun! Little Bins, Little Hands came up with a great idea to make and freeze baking soda eggs! Then you use vinegar to "hatch" them! The baking soda apple experiment during Apples week was such a big hit, that I knew Little Man would really enjoy this!
Dinosaur Matching 1 – Simple Fun for Kids provided this first matching activity. Unfortunately, we did not have time for this one, which is too bad because I know Little Man would have liked it! I will still print it out for another time!
Dinosaur Fossils and Bones – We didn't have time for this either, which is a huge bummer! I know Little Man would really like this, so I will try to fit it in next week! Make Life Lovely provided the idea for the fossils, and Kitchen Floor Crafts had the idea of the bones. The recipes are almost exactly the same, so I would just pick one, and double the batch!
Dinosaur Matching 2 – I did have time for this matching activity provided by, From ABCs to ACTs! Little Man did struggle with this one. He figured it out eventually, but it was more challenging than what he is used to, and he got frustrated. Thank you,
Motor
Dinosaur Movement Game – The OT Toolbox has a free dinosaur movement game. We didn't actually play the game, but Little Man did all the moves, and had a blast!
Dinosaur Hole Punch – I printed the dinosaurs from our lacing activity below, and was going to have Little Man punch the holes, but I didn't realize how much strength that takes! So instead we just used a three hole punch on some paper, and he liked that!
Dinosaur Lacing – These dinosaurs, provided by From ABCs to ACTs, are so cute! I wasn't sure if Little Man would be able to lace or not. This is the first time we tried it with string. He only did about three holes, but it was a great first try!
Dinosaur Dig (Part 2) – Little Man was waiting for this part all week! He used all his tools to dig out his dinosaur! I had to help a little, but he did most of the work, and loved every minute of it! 🙂 *Important* Do this OUTSIDE! You can see the mess Little Man made below! I don't know what I was thinking, haha!
Dinosaur Stamp – We used our bingo stampers on this fun worksheet from Making Learning Fun.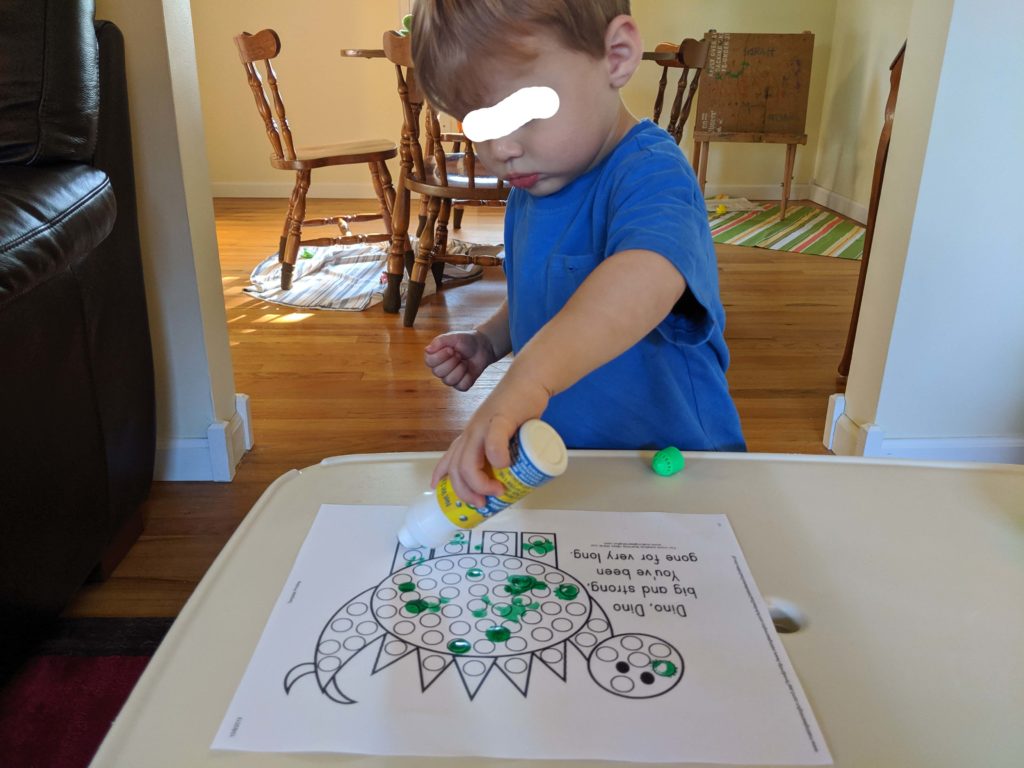 Music
Other
Dinosaur Painting – We picked out our favorite dinos to help us make a picture! Little Man's fingers were used as well, haha! I love the way it turned out!
Dinosaur Play-Doh – I saw this idea on Pinterest, and loved it! Little Man liked making dino spikes with the pasta!
I hope your little one enjoyed the dinosaur activities as much as mine! Be sure to check back next week for a new theme!
*Note: As an Amazon Associate I earn from qualifying purchases. *