Halloween is one of my favorite times for decorating our house! There are so many ideas online, and I usually make and/or add something new every year! Welcome to our Halloween house tour!
Outdoor Decor:
The silhouettes were printed off the internet, taped to black poster board, and cut out with a X-ACTO knife. There are so many patterns to choose from, but here are some free ones from Snazzy Little Things to get you started! As long as you have some sort of knife, you're only paying for the cost of the poster board (which can often be found for 50 cents at a dollar store)!
The idea for the hanging cage came from The Navage Patch. I used animals that I found at my dollar store, and added web to the outside, giving it a little something extra! All of this was made for under ten dollars! The rest of the decor looked to pretty, and didn't match the Halloween theme, so I threw some fake spider web on top! It works, but I do hope to someday create a more scary scene!
Entryway Decor:
The next stop on the Halloween house tour begins in my entryway.
Welcome to Hogwarts! Here, I have something from each of the seven Harry Potter books!
First, the wand. The wand made out of paper, hot glue, and paint (super cheap)! All you need to do is take a piece of cardstock, and roll it into any shape you want. Then take a piece of paper and shove it into the bottom where the hole is, thus filling the hole. After you make your wand shape, add hot glue all over it to make it look like wood, choose any pattern you want! I chose to make knots. Finally, you just have to paint everything brown, and you're done!
The hanging letters can be found at Life on Summerhill, and the marauder's map came from Harry Potter Paraphernalia. Both only require paper and a printer! The potions book from the Half Blood Prince, also only needs paper and a printer, plus an old book (I found mine at Goodwill). Once you have a book, use the tutorial from Instructables, and ta da!
The golden egg took a little more effort, but not a lot of money! All you need is a styrofoam egg and gold thumbtacks. Stick the thumbtacks all over the egg, and then mod podge over top to ensure they all stay in place!
The egg may have taken some effort, but the picture frame was easy! All I had to do was write, "I must not tell lies," put it in the frame, and add a black feather (or "quill"). Two dollars, total!
The spiders were easy too! I just cut the backs off of spider rings, and made a "follow the spiders" sign.
Finally, the hallows symbol was made using a small grapevine wreath and twigs (idea from here). The twigs were free, obviously, and the wreath was about three dollars at my local craft store!
I did add two additional things – the mirror, which I already had hanging in this area, and Hedwig. If you want to add a mirror, the dollar store has cheap ones, and while you're there, grab some red lipstick for the writing: "The Chamber of Secrets had been opened. Enemies of the heir, beware." My hedwig was bought years ago, but here is a very similar one!
Living Room Decor:
In my living room I have a few cardboard pieces that I bought from my local craft store and painted (the tombstones, and 31). I paid less than three dollars a piece for each one!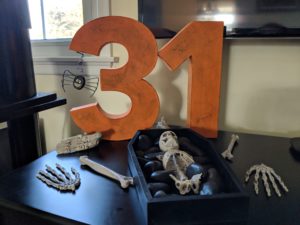 I am also working on another area in my living room, but it is still a work in progress. It's sleepy hollow. The only DIY item here so far is the picture from here. My favorite part is the hat and scarf! You can purchase a similar hat here!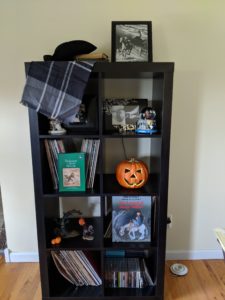 Dining Room Decor:
The Halloween house tour continues into my dining room! For now the only decor in this room is my centerpiece. To make this, I made a spider web out of hot glue on a cheap vase, and then spray painted everything black. I then added some twigs, leaves, and fake spider webs! Total cost, minus the spray paint, three dollars! I did add candles on either side, which I found a few years ago after Halloween for a couple dollars! You can add plain white ones and get the same effect! I actually plan to move these candles some day when I create a Nightmare Before Christmas area! Wouldn't they be perfect?!
Mantel Decor:
Now for the final stop of the Halloween house tour, my favorite area, the family room! love to decorate my fireplace and mantel! It has taken me three years to get it just right!
As you can obviously see, my fireplace is gated to protect little man, so I don't keep a lot of decor on the hearth. But, two simple candle sticks with black cheesecloth add a nice touch!
This whole room is now little man's domain! I literally kicked toys out of the way to get a picture! I do miss the days of enjoying a nice quiet fire on a cold morning, but a toy covered room with my little man is much better!
The hearth may be bare, but the mantel is full of fun, witchy things! Let's move from left to right!
To make the candles, I dripped red wax down them. Then, put them into candlestick holders and draped black cheese cloth over them. Add a cheap witches hat behind them, and ta da!
I made the spell book by using the tutorial from g*rated. The "potion" bottles I bought at my local craft store (less than a dollar a piece), and then I mod podged labels onto them. I tried to find the exact labels I used, but had no luck (I made these three years ago). However, if you type potion bottle labels into pinterest, you get all kinds, so choose what you like best!
Next, I bought a cheap cauldron and made it look old by following the information in this thread.
The picture in the frame was made by me. I just used clipart/images from here and here, as well as the lyrics from Come Little Children (Hocus Pocus). You can easily make your own, or feel free to use mine! To complete the look, I added an old, oil wicked candle (Goodwill find), and a black cat (made by my grandfather).
That's all the completed DIY decor I have, but check back next year for new ideas! I hope you enjoyed my Halloween house tour, be sure to check out my other posts for more decor ideas! 🙂