Welcome! This week is all about apples, to honor of Johnny Appleseed Day, celebrated on September 26! Enjoy our fun apple activities! Don't forget to grab your calendar below!
Apple Books
Many of these books were way above Little Man's understanding, but I had a really hard time finding apple books. So, instead of reading them, we did a picture walk and talked about everything we saw in the pictures!
Apples by Gail Gibbons
Apples by Jacqueline Farmer
Apples, Apples, Apples by Elizabeth Wallace & Nancy Page
The Story of Johnny Appleseed by Aliki
Ten Apples Up on Top by Dr. Seuss
S.T.E.M
Apple Tree Color Sorting – Froot Loops are a rare treat for Little Man, so I knew he would like this activity! I simply cut out three trees in red, green, and yellow, and had Little Man sort the colored Froot Loops onto the correct tree. He gave up sorting after this picture though, and decided he would rather eat them instead, haha! Oh well, at least we were able to talk about the colors!
Apple Tree 1:1 – I used my green apple tree from the apple sorting activity, and put red dots all over it. Then, Little Man used apple erasers to practice one-to-one correspondence. I was originally going to use pom poms for this, but found the erasers at Target, and knew they would be perfect! Also, I wasn't sure Little Man was going to be ready for one-to-one correspondence, but thought I would try, and was happily surprised! He really liked this activity! We even did it more than once, which is very rare!
Erupting Apple – This activity comes from Little Bins, Little Hands, and Little Man absolutely loved it! Just an apple, baking soda, and vinegar; so simple! Food coloring is optional, but I definitely recommend it! Little Man was able to help scoop the baking soda and pour the vinegar. We did it three different times, but believe me, Little Man wanted to do it many, many more times!
Apple Stacking – I found this activity at A More Crafty Life. Of course, Little Man wanted them all stacked at once, so I had to do it, but let me tell you, it was not easy! I filled mine with rice, I'm not sure if something else would work better. This picture was pure luck, as it fell a second later! But Little Man was happy, so that's all that mattered! 🙂
Apple Balance – Days With Gray provided this fun activity! Little Man had a lot of difficulty getting the apples to stay, but he was determined!
Motor
Apple Toss – This was supposed to be an activity that required Little Man to stand back and toss apples into the basket, but as you can see, it became more of a drop them in the basket type of game!
Apple Picking – Little Man had so much fun with my Shear the Sheep activity during farm week, that I knew he would enjoy this as well! For this, I taped two pieces of Press n' Seal wrap onto my door, then covered the top part with pom poms. After that, Little Man picked off all of the "apples" on the tree!
Falling Apples – I used my apple erasers for this activity as well, but you could just as easily use pom poms. All you need is a container of some kind; I used a cup. Then have your child stand above it, and try to drop their "apples" into the container.
Bobbing For Apples – Little Man loves water, so I thought he would really like this activity. However, he did it long enough for this picture and then gave up, haha! The idea for this came from Sunny Day Family. We didn't do it quite the same way, obviously, so pick whichever version you like! 🙂 Side note: pom poms in the tub with your little one during bath time, is a really fun activity!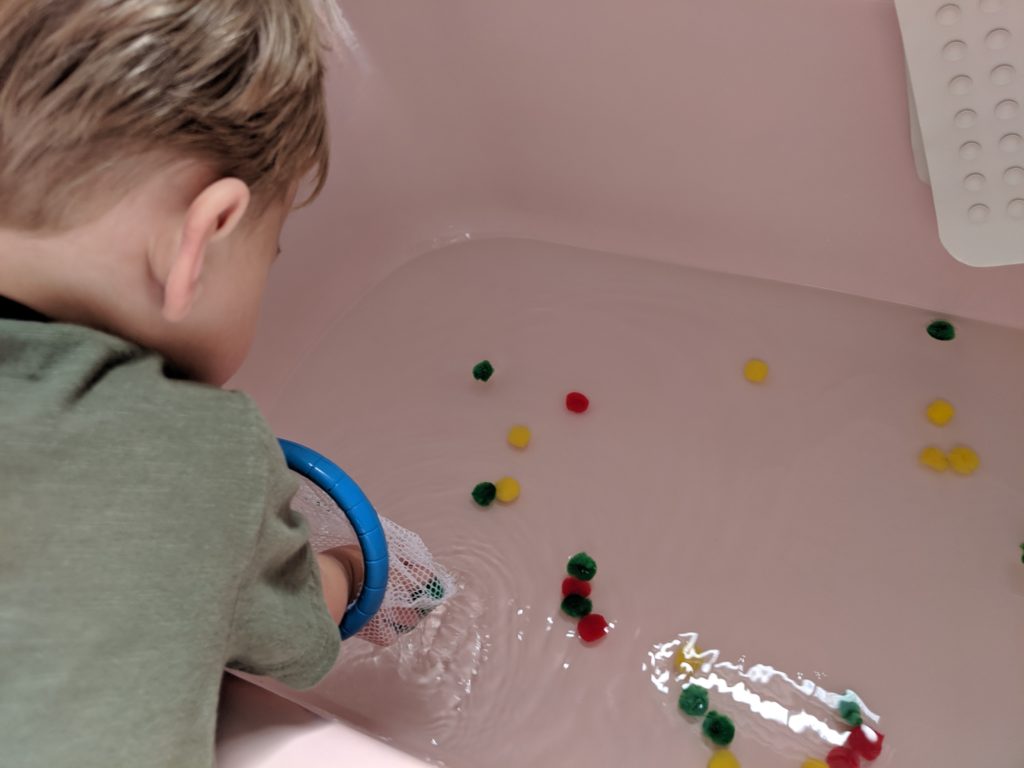 Apple Picking 2 – Unfortunately, we did not have time to try this second apple picking activity from The Mama Workshop, but it looks like a great motor activity! And great for hand-eye coordination!
Music
Other
Apple Coffee Filter Art – This idea comes from Mom to 2 Posh Lil Divas. Little Man was not so interested in the coloring part of this activity, but really liked spraying them with the spray bottle! Like my owl? Haha. Little Man loves owls, and insists that I draw them all the time! I am definitely not an artist, but he doesn't care!
Apple Slime – STEAMsational provided a great fluffly slime recipe, but after it was made, Little Man wanted nothing to do with it. He wouldn't even touch it! Hence there is no picture of the finished product, haha!
I hope you enjoyed all of our apple activities! Be sure to check back next week for a new theme!
*Note: As an Amazon Associate I earn from qualifying purchases. *