I have been such a slacker! I do have good reasons though! 🙂 If you can believe it, I completed all the activities for this post with Little Man back in October! Who would have guessed that you don't get a lot of free time with a toddler?! However, these construction themed activities definitely held his attention!
Mathematic/Cognitive Skills:
This crane is from IKEA, and it is awesome! The blocks fit into the back like a puzzle, but they are also magnetic, and can be picked up by the arm of the crane! When we completed this activity, Little Man was just starting to get the hang of his shape sorter, so I knew this would be perfect for him!
Puzzles in general are such a great cognitive activity; the crane just happened to go perfectly with this week's theme! Obviously, I know that many of you do not have this crane, or have access to an IKEA, so any puzzle will work! We have this one from Melissa and Doug! The big, chunky handles are perfect for little hands!
If you don't have any puzzles that your baby can complete right now, or if you just want an extra activity, head on over to Katie Kuras', Teachers Pay Teachers site and download this free memory game! My Little Man is not ready for memory yet, but he loved looking at the pictures while I talked about each of the objects. Also, if you have an older toddler, try having them match picture-to-picture!
Language/Literacy:
Little Man's Recommendations:
Buildablock by Christopher Franceschelli (I really love this one!)
My First Trucks and Diggers: Let's Get Driving! by DK
Goodnight, Goodnight Construction Site Sound Book by Sherri Duskey Rinker (Little Man really loves this one, and any sound book!)
Curious George's Crane (mini movers shaped board books) by H.A. Rey
Curious George's Dump Truck (mini movers shaped board books) by H.A. Rey
Dig: Peek-a-Flap Board Book by Jaye Garnett
Let's Go, Construction Trucks! by Scholastic
Science/Sensory:
We made dirt play-doh! I saw a lot of recipes for this on pinterest, but ended up going with this one from Natural Beach Living, just in case Little Man decided to try some (which he did)! For extra fun, we added some of Little Man's construction trucks! These trucks are from an old version of Fisher Price's Little People, that they no longer make. However, if you look below, I show another great option for construction vehicles, so be sure to check them out!
Motor:
I had two different activities for motor! The first was letting Little Man play and explore this awesome play-and-go construction site from Little People, that I found at a consignment sale. I wish Fisher Price still made this! If you can find one, I definitely recommend it!
However, since this item is no longer made, I have another activity that was a big hit with my Little Man!
I put stones into his dump truck! He had a blast taking them out, dumping them out, putting them in, and pushing them around! He was content with doing this for about ten minutes (which, if you have a baby/toddler at home, you know is a lot of time)!
Art: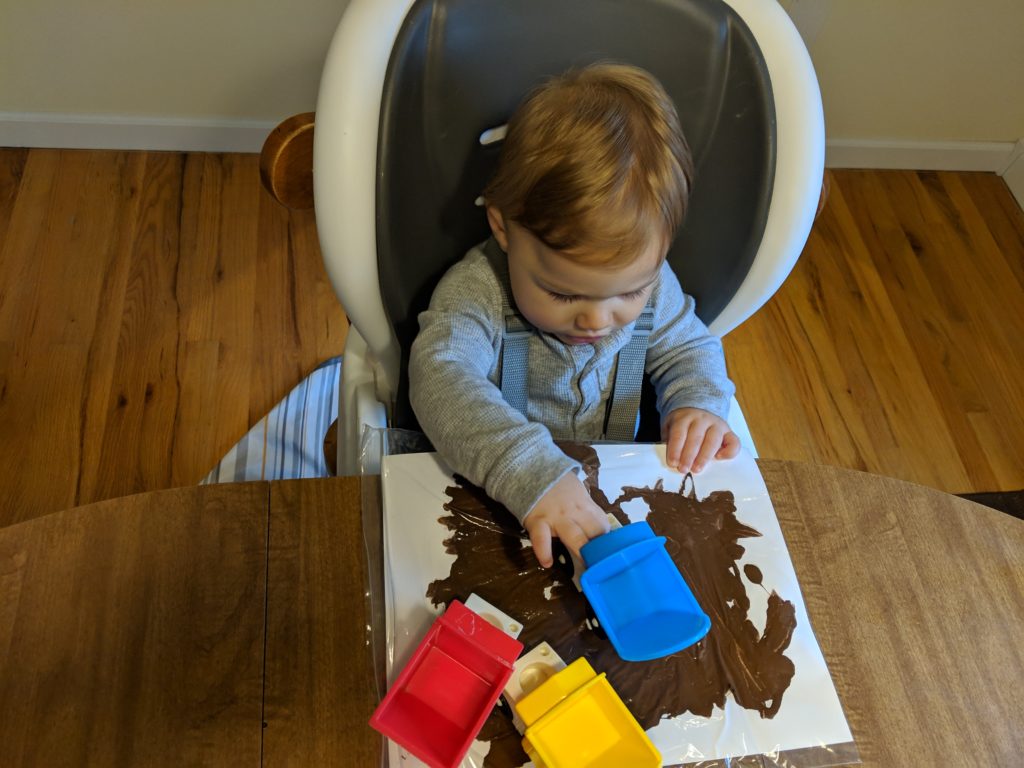 Little man had a lot of fun with this activity, but I think he would have had even more fun if it wouldn't have been in the plastic bag! But sometimes mess-free projects are better! 🙂
All you need for this activity is some vehicles, paper, brown paint, and a ziploc bag if you choose to go the mess-free route. 😉 Super simple, but a lot of fun! Then, once it's dry, you can add some construction stickers to make it look like a real construction site! Little man loves stickers, but he also likes to eat them, so be sure to watch your little one closely!
Music:
I couldn't think of any songs about construction! Thankfully, Pre-K Fun came to the rescue! These are so cute and a lot of fun! 🙂
*Like what you read about or saw? Find out where I get some of little man's favorites!*
*Note: As an Amazon Associate I earn from qualifying purchases.*