This theme was a lot of fun because we have a ton of zoo themed items!
Language/Literacy:
Little Man's Recommendations:
Dear Zoo by Rod Campbell
Polar Bear, Polar Bear, What Do You Hear? by Bill Martin Jr. & Eric Carle
Panda Bear, Panda Bear, What Do You See? By Bill Martin Jr. & Eric Carle
Does a Kangaroo Have a Mother Too? By Eric Carle
Curious George Goes to the Zoo by Margret and H. A. Reys
Five Little Monkeys Series by Eileen Christelow
Put Me in the Zoo by Robert Lopshire
Curious George book series by Margret and H. A. Reys
Bright baby: At the Zoo by Roger Priddy
Mathematic/Cognitve Skills:
I have so many great items that fit with this theme! We have this great puzzle given to us by a friend.
I love it and so does little man! Each piece does something different, and they are big and chunky! Great for little hands!
Unfortunately, I tried looking it up online and it doesn't look like they sell it anymore, but I found this one that is similar.
Also, remember the matching animal part blocks from my farm lesson? Well, two of them were zoo animals, so we got them back out!
Next, we had these blocks! Little man mostly just likes to knock them down, but I love that they have matching animal parts, along with the other great cognitive skills! Finally, we also have zoo animal links. Again, little man just likes to put them in his mouth, but I was able to talk about the colors, and show him different patterns.
Of course, if you don't have anything zoo related in your household, you can always print out pictures! You could also use your hands to show how many animals when singing, Five Little Monkeys or One Elephant.
Science/Sensory:
If you live close to a zoo, a perfect science activity would be to take your child to visit it. However, I know this isn't always a possibility, so I have great sensory activity as well! After completing the art project, I looked around my house at my basic craft supplies and found some felt, feathers, and pipe cleaners. I used these to create these sensory animals! Then I let little man feel the different textures. He actually did way better with them than I thought he would! He really enjoyed the different textures, especially the feathers!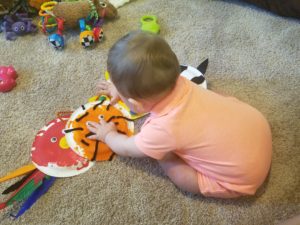 Motor:
Little man has waaaay too many stuffed animals. I feel like everyone bought me one for my baby shower! So I took all of the zoo related ones and put them in his crib with him. Then I told him he was the zookeeper and he needed to wrangle all the animals (like he understood me, haha!). He really enjoyed reaching and grabbing for the animals! Great for both fine motor and gross motor practice! Little man's bouncer is also zoo themed, which gives him some great exercise!
Art:
I found this craft at raisinglittlesuperheroes, and thought it was perfect! I put a paper plate with some yellow paint into a ziploc bag, so that little man could make the face. Then I glued on the eyes, ears, pom poms, and drew on the mouth.
Music:
We're Going to the Zoo
Five Little Monkeys Jumping on the Bed
Five Little Monkeys Swinging from the Trees
Let's Go to the Zoo
One Elephant Went Out to Play
*Like what you read about or saw? Find where I get some of little man's favorites!*
*Note: As an Amazon Associate I earn from qualifying purchases.*