This was a fun week! Little Man and I love Nursery Rhymes! He is even able to repeat a few lines from his favorites! And there are so many to chose from!
Do you like the picture of Little Man looking at the clock from Hickory Dickory Dock?! This was taken at a small amusement park in Pennsylvania. It's called Idlewild, and it has a whole section called Storybook Forest that is filled with Nursery Rhyme characters! If you're ever in the area, try to check it out! 🙂
I hope you enjoy these Nursery Rhyme activities, and remember, pick and choose whatever ones you want! My calendar is only a suggestion!
Nursery Rhyme Books
Just a reminder, I get most of my books from the library! Don't feel like you have to purchase books to engage your child in these activities! I am only giving suggestions! 🙂
Mother Goose Deluxe My First Library by Editors of Phoenix International Publications
101 Nursery Rhymes & Sing-Along Songs for Kids by Jennifer Edwards
My First Mother Goose Nursery Rhymes by Editors of Studio Fun International
Nursery Rhymes: Book and Toy Gift Set by Roger Priddy
My Awesome Nursery Rhymes by Make Believe Ideas Ltd.
Cognitive Activities
Little Bo Peep – All you need to do for this activity is to print out a few sheep and hide them around the room. Bring your child into the room, and say the rhyme. Then, tell your child that the sheep are hidden in the room, and they must help Bo Peep find them!
Itsy Bitsy Spider – This activity came from Red Ted Art. The Itsy Bitsy Spider is probably Little Man's favorite nursery rhyme, so I was looking forward to this activity! Little Man helped put the pipe cleaner in (great fine motor)! Then I wound it up as we sang the song! The only negative to this was that I had a really hard time unwinding it, and by the time I did, Little Man lost interest, haha!
Baa, Baa Black Sheep – Life Over C's, came up with this activity. Little Man liked the rhyme, but had no interest in the activity at all! Oh well! If you can get your child to sit long enough, it is great number practice and one-to-one corresponding!
Hickory Dickory Dock – Another favorite rhyme at our house! Little Man loves the Super Simple version of this song. I actually purchased this activity from Maria Clara's Corner. I know that I almost always show you free items, so if this is not something that you can buy, try making the props instead. Or simply practice with a clock! There are plenty of clock printables that can be cut apart so that your child can put it back together! No matter which way you choose, it is great number practice!
Three Little Kittens – We used the mitten cut-outs from Keeping Life Creative to practice our colors and matching!
Motor
Jack Be Nimble – Depending on the age of your child, you could actually do this with a small, unlit candle. However, since Little Man is still young, I printed out a picture of a candle instead. Actually, I print out several candles so that Little Man could keep jumping the whole way across the room! He is great at jumping up and down, but not so great at jumping forward yet, haha, so this activity didn't quite work out for us! 🙂 Don't forget to say the rhyme as your child jumps over the candle!
Humpty Dumpty – This was by far Little Man's favorite activity this week! All you need is some small plastic eggs and a large spoon. I used a ladle because I knew it would help keep the egg from falling. Once you have your materials, set a basket/box/whatever at one end of the room, and the eggs at the other. Then tell your child that Humpty fell off his wall and they have to help him get to the doctor. Extra points if you build a wall before starting this activity! 🙂 I didn't earn any haha, because I only just thought of the idea now!
Anyway… Have your child scoop up an egg with the spoon and carry it across the room without dropping it, then set it in the basket. If you have multiple eggs, your child can race to see how long it takes to get all the eggs in the basket! Or if you have more than one child, they can race each other! And sorry my pictures are blurry! It's impossible to get a good picture of a moving toddler!
There Was an Old Lady Who Lived in a Shoe – Let me start by saying that I really don't like this rhyme, so I only say the first part ("There was an old woman who lived in a shoe. She had so many children, she didn't know what to do"). Just my personal preference! 🙂 To do this activity, I printed out a picture of a boot from the internet and laminated it. Then I punched holes where the laces were, and let Little Man lace it up! He had absolutely no interest in this, but I thought it was a cute idea! Oh well!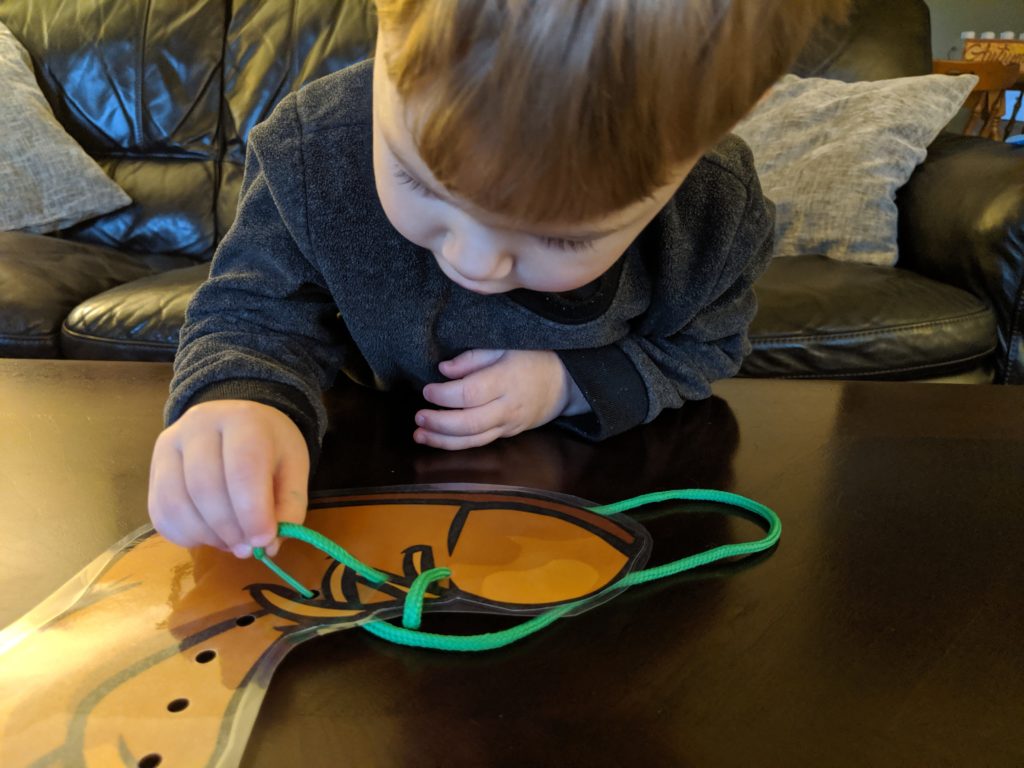 Row, Row, Row Your Boat – Sing the song and have your child pretend they are rowing a boat! I couldn't get a picture of me and Little Man doing this, but what we do is sit facing each, and hold hands. Then I pull and push him back and forth like we are rowing.
Dot Pages – Making Learning Fun has different dot pages that relate to nursery rhymes, just scroll through. I chose the Gingerbread Man, but you could do:
– Peter, Peter Pumpkin Eater (pumpkin)
– Baa, Baa Black Sheep
– Itsy Bitsy Spider (spider)
– Two Little Dickie Birds (bird)
– Five Little Speckled Frogs (frog)
– One, Two Buckle My Shoe (hen)
– Once I Caught a Fish Alive (fish)
– I had a Little Turtle (turtle)

Music & Rhymes
Choose your favorite Nursery Rhymes! 🙂
Other
Muffin Man Muffins or Hot Cross Buns – We didn't have time to bake this week, which is a bummer because Little Man loves to bake! But, there are some great recipes on Pinterest for both muffins and hot cross buns! I'd love to hear about what you made!
London Bridge – Build a bridge with blocks! Little Man's was a little wobbly, so his Daddy helped hold it up! 🙂 And when it's finished, let your little one knock it down! Of course this was Little Man's favorite part!
Did your little one enjoy the Nursery Rhyme activities?! Be sure to check back every week for a new theme! 🙂
*Note: As an Amazon Associate I earn from qualifying purchases.*