Do you have any pets in your home? Little Man has two guppies! Pets are a great way to teach responsibility! Pets come with a lot of extra chores! Little Man feeds his fish every day! Even if you don't have any pets, these pet activities are sure to keep your little one busy this week! Grab your free calendar below!
Books About Pets
Pat the Bunny or Pat the Bunny Set by Dorothy Kunhardt
Where's Spot? by Eric Hill
Hello World! Pets by Jill McDonald
Have You Seen My Cat by Eric Carle
Clifford the Big Red Dog by Norman Bridwell
Cognitive Thinking
Pets and their homes – This cute activity from Tot Schooling was a hit with Little Man! He needed some guidance on a few (example: the fish lives in the water, which one has water?), but by the second time, was easily doing it by himself.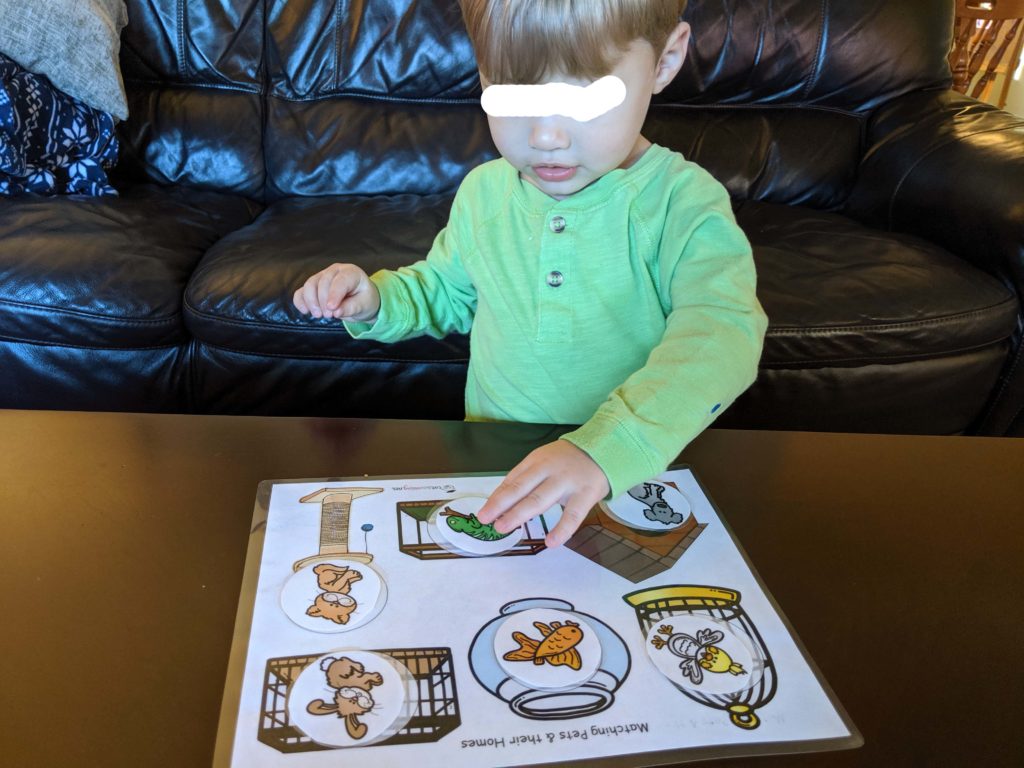 Little Mouse, Little Mouse – Another favorite! Mom Vs The Boys made this cute game, and Little Man was asking to play it all week!
Shadow Matching – I used this shadow matching activity from Tot Schooling during Farm week, but this time we used the pet shop version! Even though it had only been about a month between the Farm and Pets, Little Man did so much better this time around!
Fish Bowl Crackers – Preschool Play and Learn made these cute fish bowls! We used them mostly to practice one-to-one correspondence, but it's always good to point out the numbers as well! Of course, Little Man was more interested in eating the fish than counting them!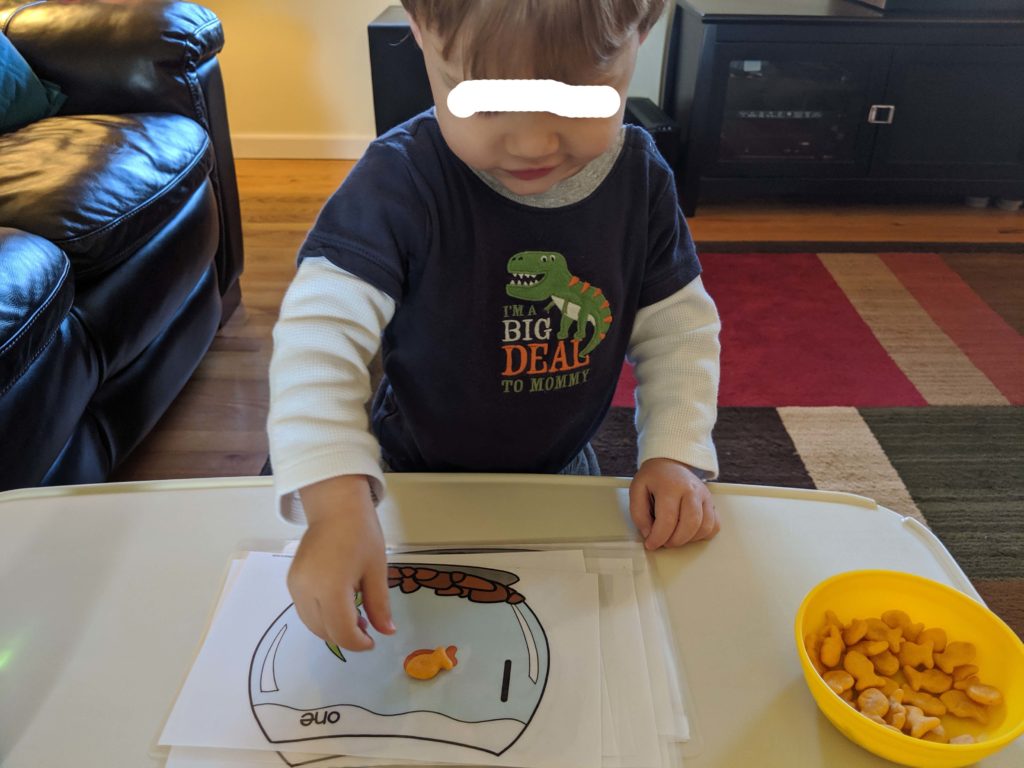 Kitten Number Match – Before finding this activity, I had never heard of TeacherShepra before, but it has a lot of resources, and Is definitely worth a look! This cat counting activity from elementary discoveries, was great for number practice!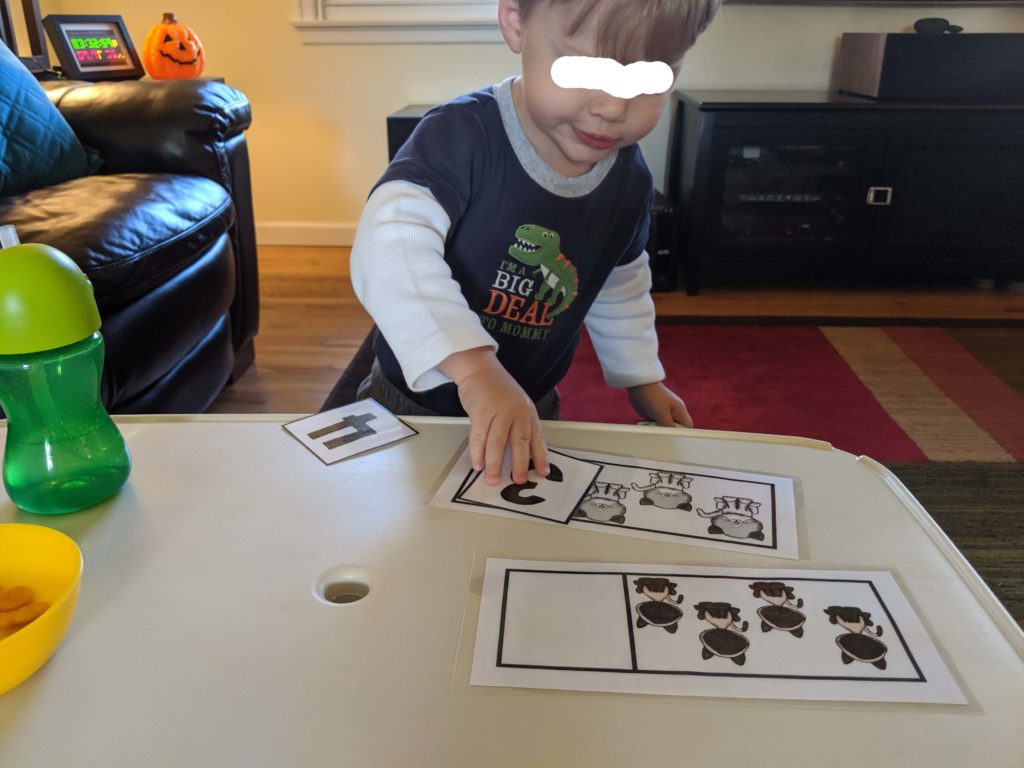 Motor
Cat Whisker Lacing – Your Therapy Source created this activity, but I had a heck of a time putting the holes in because my hole puncher wasn't long enough! They weren't very big, so Little Man had a hard time with this, and therefore no interest.
Fine Motor Feathers – We didn't have time for this activity from Early Learning Ideas, but it looks like great fine motor practice!
Dog Bowl Bean Bag Toss – I was really bummed we didn't get to this activity from Pink Oatmeal! I know Little Man would have liked to try a bean bag toss!
Fishing – We used the idea from Best Toys 4 Toddlers, but I used actual animals. Little Man liked scooping them into the net!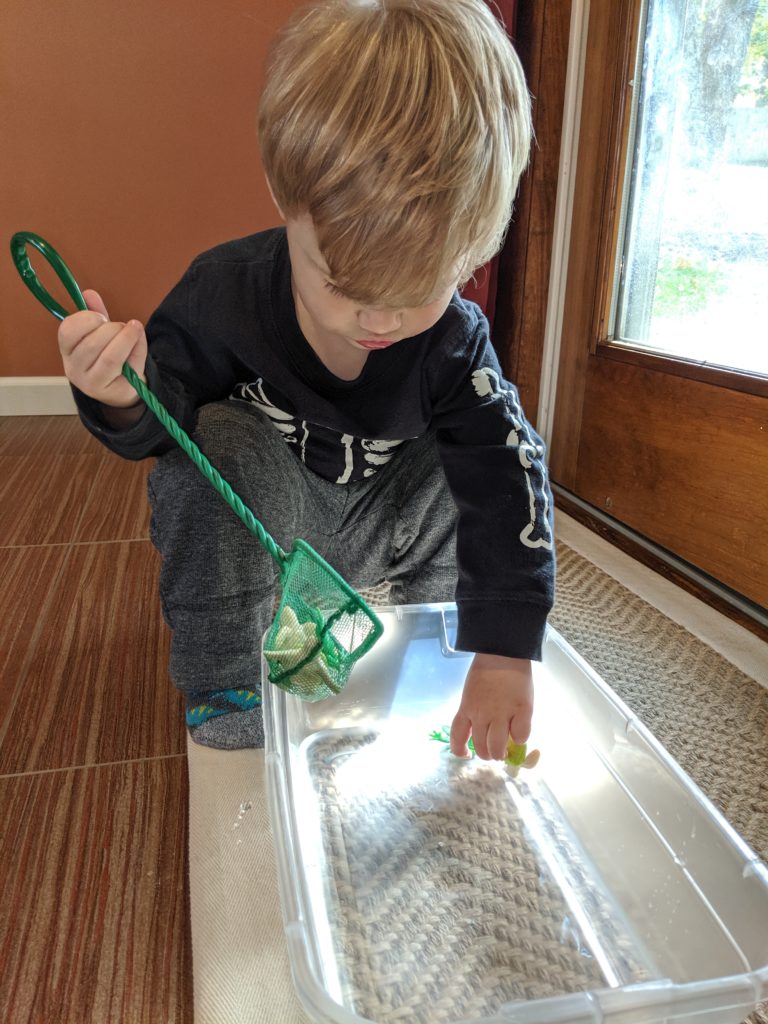 Feed the Animals – This activity from Laly Mom was my favorite! We used dried beans as the "food," and Little Man loved scooping it into the bowls!
Music & Rhymes
B.I.N.G.O.
How Much is That Doggy in the Window
Other
Where's Spot? – Little Man loves Spot! I don't know why I didn't think of this idea! But I'm glad Sunny Day Family did!
Feather Painting – It was my hope to let Little Man paint with feathers instead of paint brushes, but we ran out of time this week! However, it's a great art medium to try in the future!
I hope your little one enjoyed these Pet Activities as much as mine did! Check back next week for a new theme! 🙂
*Note: As an Amazon Associate I earn from qualifying purchases.*