We do not have guests stay too often at our house, because most of our family and friends are nearby, but when we do, it's usually spur of the moment. When this happens, I don't really have time to go out and get things that our guests may need, so I keep a lot of things on hand. The easiest way for me to organize everything was to use a three-tiered cart.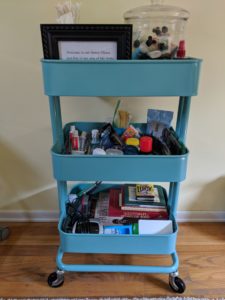 To help even more with the organization, I also used plastic organizers. I actually bought these ones, but I like that the other pack has a variety of sizes. I wish I would have found them first! Oh well! 🙂
On my cart, guests will find:
A note that welcomes them to our home, tells them to use anything on the cart, and our wifi-passcode
Shampoo
Conditioner
Lotion
Body wash (men and women)
Soap
Body Spray
Shaving cream (men and women)
Razors
Hair spray
Brush
Combs
Hair ties/clips/barrettes/bobby pins
Toothbrushes (at least 2)
Toothpaste
Mouthwash
Floss
Chapstick
Q-tips
Cotton balls
Tissues
Make-up remover wipes
Handheld mirror
Nail kit
Deodorant (men and women)
Pads/tampons
Sunscreen
First aid kit
Sewing kit
Wet wipes
Tums
Advil
Eye mask
Ear plugs
Plug-in nightlight
Phone charger
Flashlight
Notepad and pens
Candle and lighter
Alarm clock
Mints/gum
Books and magazines
Once my guests leave, I look to see if anything needs to be replaced and buy it on my next trip to the store. This cart used to stay in our guest room closet (to be pulled out when needed), but that is now filled with baby items (thanks, little man!), so it just sits out in our guest room for the time being. Don't ask  me what I'm going to do once we have another child! At least it's on wheels!
When I find out that a guest is staying, I put out some items around the house as well. In the bedroom, I leave extra pillows and blankets on the bed. I also leave some hangers in the closet, but again that's filled with baby things, so there's not much room to hang anything! In the bathroom, I leave one bath towel, hand towel, and wash cloth per person, as well as, an empty toothbrush container and disposable cups on the sink. Then in the kitchen, I tell them to help themselves to anything, but purposely put out bottles of water, coffee, tea, hot chocolate, and snacks.
I know when I'm a guest at someone's house, I feel awkward asking for things, so that's why I try to make sure that our guests have everything they could possibly need! But of course, I still encourage them to ask if they need anything!
Can you think of anything that I missed?! I would love to hear from you!