Insects are always a great topic for Spring because all the rain makes the creepy, crawlies come out!
Language/Literacy:
Little Man's Recommendations
Itsy Bitsy Spider by Sarah Ward
The Very Hungry Caterpillar by Eric Carle
The Very Quiet Cricket by Eric Carle
Bug Hunt by Salina Yoon
Hello Bugs by Smriti Prasadam Halls
Mathematics/Cognitive Skills:
Sing "The Ants Go Marching" with your little one, there are even a few books for this song. We don't have any, but I saw them online! As you sing, you can count out ten objects (I used blocks). Each time I sang a new number, I brought out another "ant" (block) from the "hole" (basket).
Science/Sensory:
Find some little plastic insects, place them in an ice cube tray, pour a little water on them, and freeze! Once the insect cubes are frozen, bring them out and put them somewhere for your little one to explore. I used our high chair the first time, and my bin for tummy time the second. Please closely monitor your child during this activity. My little man couldn't grab the ice, he only pushed it around, but if your little one is able to pick it up, be sure that you keep it away from his or her mouth (and I know this is the first place they will try to put it!).
Motor:
Using a small basket, I wove string through the holes to make it look like a spider's web. Then I placed toy insects at the bottom and let little man try to grab them. Little man loves his insects; they rattle, squeak, and crinkle! Perfect for exploration!
Art:
For this week's art project, we made a spider. Just put some black paint in a Ziploc bag and toss in eight googly eye. The paint should make the eyes stick (mine did), but if it doesn't, glue them on after the paint dries. There are eight eyes, but with all the paint you can barely see them! I guess he is a squished spider!!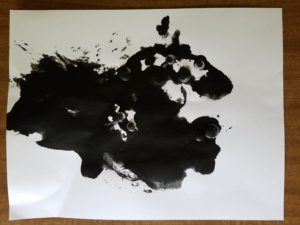 Music:
"The Ants Go Marching"
"The Itsy Bitsy Spider"
"The Ant, the Bug, and the Bee"
"Herman the Worm"
"Bringing Home a Baby Bumble Bee"
"Shoo Fly"
Extra activity:
If you aren't afraid of bugs, go outside and collect a few in a container; then show them to your little one! Just be sure to let them go!